15 Holiday Destinations For People With Disabilities – Pt 1
Everyone needs a getaway every once in awhile. Whether it is to escape the daily grind of life or to explore a new place and satisfy a thirst for adventure, going for a holiday is an experience that is fast becoming the norm. With budget airlines and online accommodations deals, travel is fast becoming accessible for all. And by all, this includes holidays for travellers with disabilities.
There are many tour agencies and holiday providers that cater for supported holidays as well as family holidays for children with disabilities. With many holiday destinations fast becoming disabled traveller friendly, there is a myriad of options to choose from now for that much needed escapade.
For first timers who are new to accessible travel, a viable option would be to try going for a local or regional holiday first. These are also suitable for those who can only afford a short trip in terms of time and/or cost. After that there is a myriad of interstate and international destinations that offer amazing attractions in an accessible setting.
#1- Great Ocean Road, Victoria (Australia)
Take a drive on this renowned coastal road that spans 243 km featuring the Twelve Apostles and be mesmerized by the beautiful sights along the southeastern coast of Australia. Enjoy the fully paved and accessible viewing platform and gaze upon the huge limestone formations that have been around for approximately 20 million years..
#2- Phillip Island, Victoria (Australia)
For a short getaway or a family holiday that includes children with disabilities, an all time favourite is to visit the little stars of Phillip Island. Take advantage of an exclusive disabled access viewing area to watch the Penguin Parade, a sight not to be missed, as the fairy penguins make their return to their burrows on the beach. And for those looking to spend time on the beach, there is a complimentary buggy service providing beach access to travellers with disabilities.
#3- Otway Ranges, Victoria (Australia)
Some of Australia's best rainforest scenery is tucked away in the Otway Ranges. Located 500 metres above sea level and perched high in the treetops is the Otway Fly Treetop Walk where you can experience the full beauty of the rainforest, featuring Myrtle Beech, Blackwood and Mountain Ash. The longest and highest walk of its kind in the world, "The Fly" is a 600 metre long walk that ascends at a gentle grade at certain parts and provides wheelchair access. It is best though, to call ahead to book and inform the staff of your individual requirements beforehand.
#4- Ocean Grove, Victoria (Australia)
A seaside town located on the Bellarine Peninsula, Ocean Grove holds the largest shopping centre on the peninsula. Located a few blocks away is the beach which offers recreation for everyone, and caters fun activities for people with disabilities. From beach wheel chairs and beach matting (which creates a path straight to the water), to programs that are specifically customized for children and adults with special needs, these programs teach lifesaving skills and even surfing, with the goal of encouraging confidence outdoors and in the water.
If you are looking to travel interstate, some of the best destinations include:
#5- Manly Beach, NSW (Australia)
Situated among the Northern Beaches of Sydney, a short ferry ride from the mainland will get you to Manly Beach, so named by Capt Arthur Phillip (first governor of NSW) after the "confidence and manly behaviour" of the indigenous people. Manly welcomes not only those with mobility access issues but visitors with visual impairment as well. Its oceanway has many shops, restaurants and bars, and beach wheelchairs are available, so lounging beach side should be a breeze.
#6- Great Barrier Reef, Queensland (Australia)
One of the seven natural wonders of the world, the Great Barrier Reef is located in Queensland and named as a UNESCO World Heritage Site. It is the world's largest coral reef system and made up of over 2900 individual reefs. It can be seen from outer space but diving underwater and looking at the world's biggest single colourful structure made by living organisms up close is an amazing experience on its own. Wheelchair travellers can snorkel and explore in the weightless environment of the reef with the availability of water access lifts which enable them to enter the water directly.
#7- Uluru, Northern Territories (Australia)
Also known as Ayers Rock, Uluru is another designated UNESCO World Heritage Site. A large sandstone rock formation located in the southern part of the Northern Territories of central Australia, it is home to rock caves, ancient paintings, springs and waterholes. The base walking tracks are well suited for wheelchairs travellers. Accommodation, coaches, shops and other buildings have wheelchair access and assisted rooms and the chance to dine under the canopy of the desert night is also available for travellers with disabilities.
And for those who would like to venture further from home, some international destinations include:
#8- Pattaya, Thailand
Pattaya, a popular tropical getaway for tourists, is fast becoming a hot spot of adventure for travellers with disabilities. One resort definitely had disabled travellers in mind when they designed the property to be completely accessible by connecting the entire area with ramps that stretch out over the water, so that the whole resort experience could be felt by everyone. There are also many activities all around Pattaya such as disabled diving, shows with wheelchair access into buildings and disabled access transportation that will facilitate an unhindered immersion into the local flavour and culture.
#9- Hong Kong
Reputed to be one of the most accessible locations in East Asia, Hong Kong is a city that never sleeps. It is a vibrant and lively metropolis and bursting with an energy that never fails to impact its visitors. Every corner is exciting and is sure to be an accessible holiday trip indeed as there is even dedicated transport such as the "Rehabus" for those with impeded mobility. Many popular tourist attractions such as temples and markets have accessible facilities and services such as step-free wheelchair access. They even have maps and guides for travellers with disabilities.
#10- Bali, Indonesia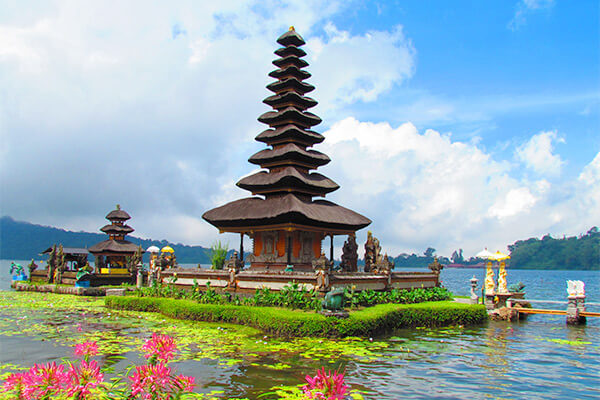 Renowned for its traditional dance, art and cuisine, the island of Bali is another hotspot for tourists. Part of the Coral Triangle, an area with the highest number of marine species, over 500 reef-building coral species can be found. For travellers with disabilities, this magnificent area offers assisted diving and snorkelling with guides to aid in the discovery of this fascinating underwater world.
#11- Cancun, Mexico
Located in southeastern Mexico, Cancun is a city found on the breathtakingly beautiful Caribbean Sea. Known for its beaches, numerous resorts and happening nightlife, this popular destination offers some of the most stunning scenery on the planet. Wheelchair travellers can enjoy the day at an accessible beach with miles of soft white sand under you and let the sound of turquoise waves lapping nearby lull you into a relaxed state. With plenty of boardwalks located along the beach and paths wide enough for you and the innumerable iguanas to traverse, this destination is definitely a spot to holiday for travellers with disabilities.
#12- Dublin, Ireland
As the capital and largest city of Ireland, this thousand year old city is rich in heritage, culture and charm. Cobblestoned pathways, archaic and narrow walkways as well as random stone stairways are part of the history of older cities, hence typically difficult to navigate in a wheelchair. Yet Dublin has managed to keep its historical charm intact while making leeway for access, making it truly a wheelchair accessible city. And if any part of Dublin is difficult to access, you can count on the Irish to lend a hand or two.
#13- Stratford upon Avon, England
Home to the world's best playwright and poet, Stratford upon Avon is much more than just William Shakespeare's birthplace. This picture perfect medieval market town in England's West Midlands has kept its period charm while updating disability access needs such as dropping curbs, leveling cobblestones and ensuring that all main tourist attractions are also accessible, which is a feat considering that this quaint town was built in the 15th century.
#14- Key Largo, USA
A stunning island in the upper Florida Keys archipelago, Key Largo is connected to the mainland in Miami- Dade County and calls themselves the "Diving Capital of the World". With the beach accessible by ramps and wooden walkways and the availability of boats outfitted for wheelchair access, travellers with disabilities are able to pander to their sense of adventure and enter the water into a whole new world.
#15- Tuscany, Italy
And lastly, for the moment at least, another great accessible holiday destination would be Tuscany. Famed for the world's most recognizable Renaissance-era art and architecture, this region has a diverse natural landscape consisting of the snow-capped Apennine Mountains, olive groves, vineyards and sunny beaches overlooking the Tyrrhenian Sea.
As you can see, adventure travel for people with disabilities is now an achievable option with many specialised tour and holiday providers catering for this valuable market. The choices available for supported holidays are many and diverse and constantly increasing. Stay tuned for the next article where we shall also explore cruise holidays, a truly accessible option for travellers with disabilities.
*Leisure Options is Australia's leading provider of supported disability travel and holidays for individuals with special needs. We specialise in providing local, national and international holidays for people with physical and intellectual disabilities, acquired brain injury, anyone requiring a travel companion and the frail or elderly.
Contact us today and start planning your dream holiday.