Leisure Options is a family owned and operated business offering supported holidays and travel for people with disabilities.
From humble beginnings in 1994 Leisure Options has grown to become a true industry leader for over 30 years. During this time we have stayed true to our mission of accessible travel for all, which remains the key to our ongoing success.
More than simply a travel provider we strive to deliver memorable experiences and embrace a family style approach to our holidays. Where possible, we stay under the one roof in large holiday houses, creating a comforting atmosphere and shared experiences. We believe this approach actively assists in building lasting friendships and offers greater opportunities to form deep and lasting memories of your time away.
As a boutique operator we are proud to provide amazing holidays unique to Leisure Options. We travel in small tailored groups with high staff to traveller ratios, stay in quality accommodations and maximise time at your destination avoiding extended travel times. Our experienced and dedicated tour leaders actively promote our commitment to individual needs and provide a safe and supportive holiday environment.
When you book with Leisure Options you can be assured that you are travelling with a fully accredited, award winning travel agency that specialises in catering for all your needs. We are proud of our achievements including multiple Victorian Tourism Awards and are AFTA and IATA members. Our travel industry experience is equally matched by the many years of health and disability experience that our diverse staff bring to the business.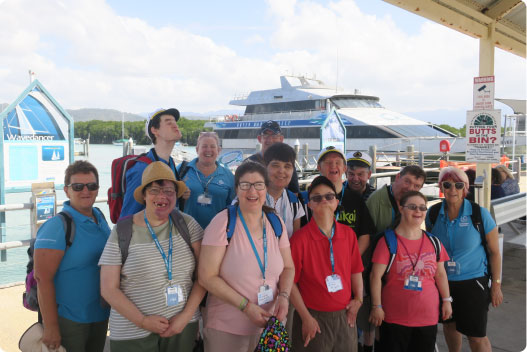 We specialise in providing local, national and international holidays and travel for people with physical and intellectual disabilities. Our travel packages also cater to those with acquired brain injuries, anyone requiring a travel companion, the frail or elderly or families in need of respite care.
Leisure Options caters for people with all ranges of abilities from the very independent to those requiring 1:1 support. Our friendly, compassionate and professional tour leaders work hard to ensure you enjoy a fun-filled, hassle free holiday. Whether you want to travel with a group, have a dream destination where we tailor an itinerary especially for you or just want some one-on-one time in our respite care, Leisure Options can cater for every travel need.
Accessible Travel For All
Since 1994 Leisure Options has been creating barrier-free holidays and travel experiences for people with physical and intellectual disabilities.

Our personalised itineraries feature tours to local, national and international destinations along with individual travel and respite care.

We are a one-stop-shop ready to handle every aspect of your travel arrangements, making your entire experience- from start to finish - hassle-free.
Award Winning
With over 30 years' experience in both the travel and disability industries we are Australia's supported travel experts. Our team is able to provide you with expert advice and itineraries customised to your specific needs.

With over 80 departures annually our main focus is on providing holidays that allow maximum choice, loads of fun, high staffing ratios, commitment to individual needs and a supportive holiday environment.

Leisure Options' unique holidays have been recognised with multiple wins in the prestigious Qantas Australian Tourism Awards and the Victorian Tourism Awards.
Leisure Options is an Accredited Tourism Business and a member of the Australian Federation of Travel Agents. Our ATAS accreditation proves that we are the best in our industry, credible, well trained and a highly professional business. This means you can book your travel knowing you are in the safe hands of a trusted and reputable travel agent. As a registered service provider for the National Disability Insurance Scheme you can rest assured that we understand and can manage your unique support needs.