You are not alone
Leisure Options is very proud to have contributed to and be associated with the recently released novel You are Not Alone: A Carer's Personal Journey. In this novel Sue Downey openly and honestly addresses the issues faced by carers. There is helpful information, personal stories and experiences and words of wisdom on caring for a person with a disability.
"You don't know how much a person is going to change – one minute they can be as nice as pie, the next a complete and utter angry bastard you wish you could slap back into reality. But, it's the nice as pie person you soon remember. And the one you realise has no control over his/her actions." These are the thoughts Sue had everyday over the six years she cared for her husband Doug. At 57 years old, he suffered a serie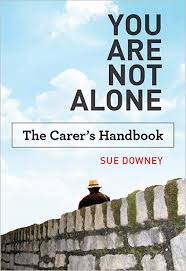 s of strokes and consequently developed Vascular Demetia. He died at the young age of 63 years. In a matter of one day Sue went from being a devoted wife to a devoted CARER – a dramatic transformation. Sue Downey's reference book for personal carers takes you into a journey of life, how it can turn upside down overnight, and how to brave through it.
"You are Not Alone: A Carer's Personal Journey is an important work on a sadly undervalued, but unquestionably essential group at the heart of Australian society. Memoir mixed with practical information, combine to create an inspiring and moving account of responsibility, compassionate care, and the full range of human emotions." (Councillor George Seymour, FCRC 2016)
"There are many things carers need to know to make life a little easier. Because I couldn't find the answers to the numerous questions I asked, I decided to find my own answers through research. I hope you will come to a page and say: YES, this is just what it's like for me. Or this is what I need to know. By reading this book, I know you will realise YOU ARE NOT ALONE in your journey." (Sue Downey, author)